PREVENTING ABUSE IN SPORTS TAKES

We hope to inspire that courage
Courage First is an abuse education initiative created by The Foundation for Global Sports Development to build awareness around sexual abuse in sport.
We collaborate with survivors, universities, and leading abuse prevention organizations to host educational film screenings and discussions panels around the country.
With the Courage First initiative, outreach to college audiences through screenings of At the Heart of Gold and expert panels helps educate the next generation of athletes and influencers to build a safer, more supportive athletic community of compassionate excellence. If you have the courage to create change, the Foundation for Global Sports development has the heart of gold to help.
Collaborating with Courage First has been an immense privilege for our team at UCLA. Their expertise in leading innovative violence prevention education is a perfect complement to our public health research on the same topics. Teaming up with Courage First to screen At the Heart of Gold has been an effective way to raise awareness about recognizing and addressing sexual violence across the University of California campuses. I strongly encourage other colleges and universities to host a screening on their campus!
Thank you so much for sending us At the Heart of Gold. The screenings were a huge success! There were 393 students that reserved tickets to watch the film. . . I am so glad that you had us put disclaimers on the website, had us read the comments at the beginning of the screening and have a counselor at each of the screenings. People did stay after and talk to the counselors. Thank you again for making this opportunity available to us!
At The Heart Of Gold: Inside The USA Gymnastics Scandal
At The Heart Of Gold: Inside The USA Gymnastics Scandal
Featuring exclusive interviews with survivors of the 2017 sexual abuse scandal, the Emmy-nominated documentary looks at the shocking stories of the gymnasts who made courageous efforts to reveal a dangerous system that prioritized winning over everything. Premiered worldwide at the 2019 Tribeca Film Festival. Now Available on HBO/On Demand.
AT THE HEART OF GOLD: INSIDE THE USA GYMNASTICS SCANDAL
Courage First is taking At the Heart of Gold on a nationwide non-theatrical screening tour.
The tour aims to further generate awareness around sexual abuse in sports and create safe spaces for conversation and collaboration. Join students, educators, coaches, and organizers as they use At the Heart of Gold to spark discussions and inspire action.
Watch Sidewinder Films' compelling documentary, At the Heart of Gold: Inside the USA Gymnastics Scandal to spark discussion and inspire action.
We encourage those hosting a film screening to utilize our Discussion Guide to help foster engagement and to tackle these complex topics together.
Complete the form below or send an email to couragefirst@gsdswf.org to host a screening today. *required
RESULTS OF PREVIOUS EVENTS

of survey respondents said they feel more prepared to help someone who discloses abuse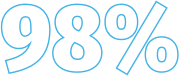 of survey respondents said they better understand how predators operate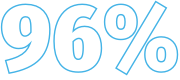 of survey respondents said they better understand the power dynamics of abuse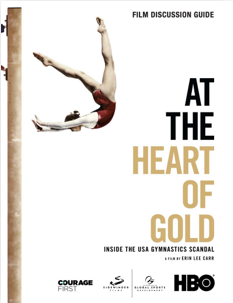 DOWNLOAD THE DISCUSSION GUIDE
To delve deeper into the complexities presented in the film, we encourage you to use our Discussion Guide. The guide provides viewers with thought-provoking engagement activities as well as education on how to continue the conversation in your own community.
When hosting a screening — virtual or in-person — please be prepared to provide the following items to your audience members:
Content Warning: This film contains details of sexual abuse some may find disturbing. Sensitive viewers, please be advised. Given the subject matter, viewers may have a strong reaction to parts of the film. Though visuals are not graphic, much of the information in the documentary is of a sensitive nature. We encourage you to practice self-care as you watch the film. This may include taking breaks, checking in with yourself, and reaching out to a trusted loved one or support resource.
On-Site Counseling: If you are hosting a film screening, it is your responsibility to provide resources to your audience. If possible, please have someone trained in crisis or sexual assault support in attendance to assist if a viewer is inspired to disclose abuse. At a minimum, you should provide contact information for local and national support organizations (please see below).
Respond to a Disclosure: In the event of an abuse disclosure or suspected abuse, it is important to understand reporting guidelines and best practices. We put together this free guide to accompany film screenings, assist you in supporting survivors, and educate around prevention.
We have partnered with UC Speaks Up to bring Courage First to University of California students. Together, we offer students, faculty, and staff the opportunity to participate in virtual screenings and discussions of the Emmy-nominated At the Heart of Gold: Inside the USA Gymnastics Scandal (ATHOG)
About the Project
This partnership was born out of research done by UC Speaks Up and the UC Global Health Institute examining sexual violence prevention among collegiate athletes. The research shows that current resources for sexual violence support have been limited and additional programs for sexual violence prevention are necessary.
About UC Speaks Up
The research team at UC Speaks Up is led by three small but deeply committed teams of student, staff, and faculty investigators from UCLA, UCSD, and UCSB. Their work is supported by the UC San Diego Center on Gender Equity and Health (GEH) and the UC Global Health Institute's Women's Health, Gender and Empowerment Center of Expertise
All research team members have received formal training on trauma-informed practices, research ethics and compliance, how to conduct safe and ethical research on intimate partner violence, and qualitative research methods. UC Speaks Up is equipped with resources to support survivors that are confidential and accessible both on and off campus.
Stewards of Children® Training from Darkness to Light
Organization leaders, staff, and parents create the first layer of protection for youth, and they are ultimately responsible for ensuring all children and teens remain protected from abuse. In the event abuse occurs, adults must follow all protocols and procedures swiftly to fully address the issue.
We have teamed up with Darkness to Light to provide online certification, free of charge, through their Stewards of Children® program.
Click here to begin training and receive certification at no cost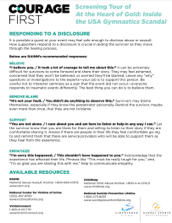 RESPONDING TO A DISCLOSURE
In the event of an abuse disclosure or suspected abuse, it is important to understand reporting guidelines and best practices. We put together this free guide to accompany film screenings, assist you in supporting survivors, and educate around prevention: