Every four years after the excitement of the Winter Olympics has quieted down, curling clubs all across the United States and Canada — and beyond — see an increase in visitors and membership. If I had to guess, it's because
Curling seems to be a more accessible (read: doable) sport than, say, the Luge.
It is a fun-loving team sport, and that "curling spirit" seems to come across even on television.
It doesn't hurt as much as speed skating or figure skating when you fall.
All of these are true.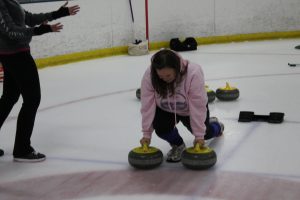 Fortunately, there are many Curling Clubs across the country eager to welcome those interested in learning how to curl. This past October I had the opportunity to join the World Curling Federation on one of their Olympic Celebration Tour stops in Oakland, California to spend the day with the San Francisco Bay Area Curling Club. I was mostly there to take pictures and video, but somehow the curlers convinced me to get on the ice and give the sport a try. What can I say, I was overcome by the "curling spirit."
So, I straightened up my leg warmers (I was shocked at how cold the ice rink was…) and put on my game face. It was really fun, the little bit of curling I did. Admittedly, I didn't get very far before sprawling flat on the ice in a most uncomfortable position. It seemed really nerve wracking to give that push that sent me gliding (all of 2-3 feet), but once I pushed off, it was pretty cool. Despite my falling and the extreme cold of the ice rink, I would definitely try this again.
But really, the best part of that day was watching the teenagers who were also there to learn the sport of curling. It was such a great opportunity for them to develop interest in the new-to-them sport. The San Francisco Bay Area Curling Club has offered many of these clinics for the local youth, many of whom lack access to sports otherwise.
For those of you interested in learning how to curl, I've compiled a list of curling clubs across the United States. So many people ask "How does a person get involved in curling in the first place?" Well, the simple answer would be to find a curling club near you and show up. Check out these clubs and see if you can attend a "Learn to Curl" workshop. You won't regret it!
CURLING CLUBS BY STATE
[twocolumns]
Alaska
Anchorage Curling Club (Anchorage)
Barrow Curling Club (Barrow)
Fairbanks Curling Club (Fairbanks)
Arizona
Coyotes Curling Club (Scottsdale)
California
Orange County Curling Club (Westminster)
Hollywood Curling Club (Panorama City)
San Francisco Bay Area Curling Club (San Jose, San Francisco, and Oakland)
Wine Country Curling Club (Vacaville)
Colorado
Frosty Fox Curling Club (Crested Butte)
University of Denver Curling Club (Denver)
Broadmoor Curling Club (Monument)
Connecticut
Norfolk Curling Club (Norfolk)
Nutmeg Curling Club (Bridgeport)
Georgia
Atlanta Curling Club (Marietta)
Idaho
Illinois
Exmoor Curling Club (Highland Park)
Northwestern University Curling (Chicago)
Oak Park Curling Club (Highland Park)
Waltham Curling Club (Triumph)
Wilmette Curling Club (Highland Park)
Indiana
Fort Wayne Curling Club (Fort Wayne)
Circle City Curling Club (Fishers)
Iowa
Cedar Rapids Curling Club (Cedar Rapids)
Maine
Massachusetts
Broomstones Curling Club (Wayland)
Canadian Club of Boston (Chestnut Hill)
Cape Cod Curling Club (Falmouth)
New Pond Curling Club (Walpole)
Petersham Curling Club (Petersham)
Southshore Curling Club (Bridgewater)
Weston Curling Club (Chestnut Hill)
Maryland/DC Metro
Potomac Curling Club (Laurel, MD)
Chesapeake Curling Club (Easton)
The Country Club (Chestnut Hill)
Michigan
Copper Country Curling Club (Calumet)
Finlandia Delta Rocks Curling Club (Escanaba)
Detroit Curling Club (Ferndale)
Kalamazoo Curling Club (Kalamazoo)
Lansing Curling Club (Dimondale)
Lewiston Curling Club (Lewiston)
Midland Curling Club (Midland)
Minnesota
Cambridge Competitive (Cambridge)
International Falls
Stephen (Stephen)
Mississippi
Mid South Curling Club (Olive Branch)
Missouri
Kansas City Curling Club (Kansas City)
Montana
Whitefish Curling Club (Whitefish)
Missoula Curling Club (Missoula)
Nebraska
Ak-Sar-Ben Curling Club (Omaha)
Nevada
Las Vegas Curling Club (Las Vegas)
New Hampshire
Merrimack Valley Curling Club (Nashua)
Mount Washington Valley Curling Club (Conway)
New Jersey
Long Beach Island Curling Club (Long Beach Island)
Plainfield Curling Club (South Plainfield)
New York
Ardsley Curling Club (Dobbs Ferry)
Long Island Curling Club (Bellmore)
Canadian Association of New York (NYC)
New York Caledonian Curling Club (Mahopac)
North Carolina
Charlotte Centre Curling Club (Indian Trail)
Coastal Carolina Curling Club (Wilmington)
Triangle Curling Club (Wake Forest)
North Dakota
Capital Curling Club (Bismarck)
Drayton Curling Club (Dratyon)
Fargo-Moorhead Curling Club (Fargo)
Fortuna Curling Club (Fortuna)
Grafton Curling Club (Grafton)
Grand Forks Curling Club (Grand Forks)
Lake Region Curling Club (Devils Lake)
Williston Basin Curling Club (Williston)
Ohio
Cincinnati Curling Club (Camp Dennison)
Columbus Curling Club (Columbus)
Bowling Green Curling Club (Bowling Green)
Oklahoma
Oklahoma Curling Club (Oklahoma City)
Oregon
Evergreen Curling Club (Beaverton)
Klamath Falls Curling Club (Klamath Falls)
Pennsylvania
Pittsburgh Curling Club (Pittsburgh)
Anthracite Curling Club (Wilkes-Barre)
Philadelphia Curling Club (Paoli)
Bucks County Curling Club (Warminster)
Rhode Island
Ocean State Curling Club (Cranston)
South Carolina
Palmetto Curling Club (Taylors)
South Dakota
Rushmore Curling Club (Rapid City)
Tennessee
Great Smoky Mountains Curling Club (Knoxville)
Texas
Dallas/Ft. Worth Curling Club (Farmers Branch)
Lone Star Curling Club (Austin)
Curling Club of Houston (Friendswood)
Utah
Cache Valley Stone Society (Logan)
Park City Curling Club (Park City)
Vermont
Equinox Curling Club (Manchester)
Green Mountain Curling Club (Morrisville) 
Upper Valley and Woodstock Curling Club (Woodstock)
Virginia
Curling Club of Virginia (Richmond)
Washington
Granite Curling Club (Seattle)
Wenatchee Curling Club (Wenatchee)
Wisconsin
Clintonville
Loch Wissota
Waukesha
Wyoming
[/twocolumns]
Back to the Olympic Resource Station