Jon Vaughn - Photo Gallery
The Foundation for Global Sports Development  honors former NFL player Jon Vaughn with its Humanitarian Award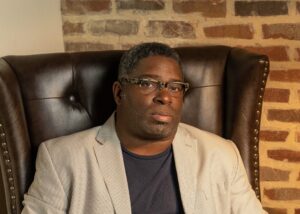 In 2022, The Foundation for Global Sports Development (GSD) will honor former University of Michigan and NFL running back Jon Vaughn with its prestigious Humanitarian Award. The award dates back to 2010 and recognizes individuals and organizations that work to preserve the values of fair play and sportsmanship in the world of sports.
Vaughn is one of more than 1,000 people, many of whom are Black men, who say they were sexually abused by U-M's former athletics team physician, Robert Anderson, during a time period spanning close to 40 years. Their claims have been supported by an independent report commissioned by the university in 2021.
"Jon Vaughn has displayed great courage in drawing attention to the damaging impact of sexual assault on athletes, as well as the prevalence of this abuse across the country," says Dr. Steven Ungerleider, GSD executive board member. "He is a worthy recipient of this award, and we applaud his tireless efforts to demand justice and change."
For 100+ days in the bitter cold of winter, and despite a diagnosis of thyroid cancer, Jon camped out in front of University of Michigan President Mark Schlissel's house to protest what he calls the university's culture of enablement and its cover-up of Anderson's actions.
After the University removed the related "Hail to the Victims" campsite in March, Vaughn chained himself to a tree at the same spot for 17.5 hours, one minute for every known Anderson survivor. The protest drew other survivors and student protestors.
"As a fellow survivor of abuse, I am all too familiar with the challenges activists like Jon and I face each day," said Trinea Gonczar, Director of Development for the Avalon Healing Center. "Despite those obstacles, Jon has been unwavering in his commitment to survivors everywhere. His strength and dedication are remarkable and inspiring."
Vaughn, 52, who played for U-M from 1988 to 1990, says his goal is nothing less than to "change the world."
"I can't change what happened to me or the others, but we sure can make this and every other campus safer today and in the future, remarks Vaughn. We can speak out and speak up about this dark issue plaguing us. This is a human problem. I wanted so badly to be a 'Michigan man' that I endured any hardship for the team's greater good because it's all about winning, Vaughn explains. Coaches and medical staffs are the most powerful and trusted people in a child and student athlete's life, and that trust was abused."
In 2022, the university announced a $490 million settlement with the victims of Anderson's alleged sexual abuse, pending approval by the Michigan Board of Regents and the claimants. Schlissel was fired in January 2022 for an unrelated reason.
"I don't think the world right now is ready to complete that spectrum of the face of abuse and include African-American men," Vaughn told CNN during an interview with that network. "In communities of color, for men to even discuss their abuse is seen as a weakness. In those communities, you're forced to be tough and strong."
Vaughn will be formally recognized in a ceremony, which will take place later this year. As part of the award, GSD is donating $100,000 to a non-profit organization, which Vaughn will select.
Vaughn says that he will continue to speak out and speak for victims. "There's no quit in Jon Vaughn," he says.
Previous Humanitarian Award recipients include member of the International Olympic Committee (IOC), and twice Vice-President of International Rowing Federation, Anita DeFrantz, a chairman of the IOC's Medical Commission, Professor Arne Ljungqvist, M.D., second President of the International Paralympic Committee, Sir Philip Craven, and first president of the World Anti-Doping Agency, Richard W. Pound.
To learn more about the Humanitarian Award and GSD's work to fight abuse in sports please visit The Foundation for Global Sports Development's website at www.globalsportsdevelopment.org.
About The Foundation for Global Sports Development and Sidewinder Films
The Foundation for Global Sports Development, established in 1996, was born out of a desire to promote and protect the best parts of sport. Guided by its original mission, the foundation delivers and supports initiatives that promote accessible, fair, and abuse-free sport for youth. The foundation achieves this objective through grants, awards, educational projects, and filmmaking. In 2015, the foundation launched its media company, Sidewinder Films, to inspire and educate audiences through films that shed light on the remarkable, untold stories that celebrate the sport of life. Visit www.globalsportsdevelopment.org and www.sidewinderfilms.org to learn more.