To be successful in the anti-doping movement, it is imperative that we understand all sides of the issue, including the perspectives of athletes, sports organizations, scientists, and yes – even the fans. This is why we recently conducted a unique survey of the American public on the topic of doping in sports, particularly in the Olympics. Realizing where the public stands on this issue is important for athletes and sports organizations as they consider how to reduce doping and improve the culture of sport.
The doping survey, conducted by Harris Interactive, reached over 2,000 adults in the U.S. We've listed some of the more interesting findings below:
About half (51%) of U.S. adults say "knowing that athletes have been caught using performance-enhancing drugs (PEDs) in the past makes the Olympics less enjoyable."
This is probably because while watching the Olympics, two-thirds of adults admit they sometimes suspect the athletes they are cheering on might be using PEDs.
Half of the adults see cheating in sport as "the greatest offense that can be done by an Olympic athlete or team."
Eighty-eight percent of adults agree that more action needs to be taken to prevent the use of PEDs at the Olympics and in all professional sports (89%) today.
How can we deter athletes from doping? Well, 74% of adults want more frequent drug testing, and 60% support an "immediate one-year suspension of all athletes caught doping." More extreme actions are also supported, such as suing athletes for breach of contract (60%) and even jailing convicted athletes (25%).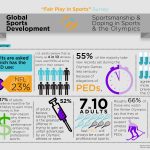 Despite the general consensus that PEDs detract from sport and the public wanting a more thorough crackdown on the problem, 72% of the public seems to agree that "the use of PEDs will always be a part of professional sports." We've heard scientists and athletes voice this opinion as well, but there is a contingent of retired and active athletes, hard-working scientists and physicians, and at least 28% of the public who believe it is possible to eliminate the use of PEDs from sport. The Foundation for Global Sports Development is working with those who seek to clean up sport, and we invite you to join our endeavor.