It is difficult to imagine sports, which many of us love so much, being an environment in which many young athletes suffer various forms of abuse — particularly sexual abuse. While studies yield different findings, reports indicate that anywhere from 2-20% of young athletes experience sexual harassment or abuse.
Let's pause to put some perspective on that number. The Minnesota Amateur Sports Commission worked with Michigan State University to determine that 35 million kids in the United States participate in sports each year. While two percent may seem small at first, when you realize that potentially means that 700,000 kids are experiencing sexual victimization in sport — it's much harder to stand by and not take preventive action. That's just the low end of the range. If 20% of young athletes experience sexual harassment or abuse, the number jumps to 7 million. That is downright unacceptable.
RISK FACTORS FOR SEXUAL ABUSE IN SPORT
Within the context of sport we find several dynamics and situations which make young athletes vulnerable. It is typical for athletes and their parents to trust coaches and respect their authority in terms of the sport. In fact, coaches can often serve as "parental figures" for many athletes. If an athlete is participating in elite sports, this level of trust and authority goes up exponentially. Celia Brackenridge has conducted and published extensive research on the topic of sexual abuse in sport. In her article "Dangerous sports? Risk, responsibility and sex offending in sport," she highlights normative and constitutive risk factors for young athletes being abused.
Normative risk factors have to do with the culture and norms of the sport community. Some of these risk factors for abuse include:
[twocolumns]
autocratic authority system
involves close personal contact with athletes
sets up clear power imbalance between athlete and coach
gives scope for separation of athlete from peers in time and space
gives scope for development and maintenance of secrecy
involves mixed sexes and ages sharing room on away trips
condones sexual relationships between all ages and statuses
sexualizes athletes' idiocultural traditions
provokes intense peer group competition/jealousy
supports collective silence on matters of sexuality
[/twocolumns]
Constitutive risks are more related to the structure of the sport organization. These risk factors include:
[twocolumns]
hierarchical status system
performance-based rewards
links rewards to compliance with authority system
has rules and procedures which omit/exclude consultation
lacks formal procedures for screening, hiring, and monitoring staff
intense training regimes to acquire necessary technical skill
makes technical/task demands which require legitimate touch
subsumes individuality within competitive structure
[/twocolumns]
Location is also a risk factor. Some locations are more high risk for sexual molestation than others. These include "national and international competitions and tournaments, massage by coach, being alone in a car with the coach, and visiting the coach at home." (Brackenridge, 2003) Also, sports or leagues which focus more on performance than on athletes' well-being are likely to bring about these risk factors.
EFFECTS OF SEXUAL ABUSE
Numerous studies outline harm brought unto youth when they are sexually victimized. Many of these negative outcomes continue on into adulthood.
Depression
Psychological distress
Poor self-esteem
Substance abuse
Suicide attempts
Self-destructive behavior
Dissociative disorder
Severe posttraumatic stress symptomatology
Psychopathology disorders
(Lev-Wiesel, 2008)
PREVENTION METHODS AND OBSTACLES
Anyone working in a sports club, federation, or organization should read the research article, "Sexual Abuse in Sport: A Model to Prevent and Protect Athletes," by Drs. Sylvie Parent and Guylaine Demers. They studied sports federations and sports clubs in Quebec to learn about their current prevention methods and opinions on the topic. This article successfully outlines issues within federations and sports club which make prevention methods difficult to implement. We have outlined these obstacles below:
Negative View of Prevention: Many administrators, coaches, and stakeholders (athletes, parents, etc.) are wary of sexual abuse prevention in sport. For starters, Parent and Demers found that many of the stakeholders "trivialized impacts and effectiveness of sexual abuse prevention." Also concerns existed that prevention measures could lead to fears that abuse currently existed within the organization. Coaches and administrators felt vulnerable to the possibility of unfounded allegations. Considering all of these issues, stakeholders simply believed it was "impossible" to entirely prevent sexual abuse.
Lack of Leadership, Competence, and Resources: Anyone involved in a sports organization knows that many of the roles are filled by volunteers, while at the same time staff members are wearing multiple hats to get work done. It is easy to understand then that sports program administrators felt they lacked specialized resources, tools, and proper training to implement any kind of prevention program. Not only did they feel "powerless and incompetent," but they also felt as though initiating and monitoring such a program would be a burden.
As a result of these negative attitudes, the absence of a prevention program missed many measures which can keep young athletes safe from sexual harm, including:
Pre-employment screening: None of the organizations conducted criminal background checks on volunteers, and only one organization did checks for staff.
Training and Awareness Building: Parents had not received training on sexual abuse or any awareness-raising documents/materials. Administrators were also untrained.
Boundaries/Lack of Rules: Organizations had not created formal definitions of boundaries. Also, there were no instructions or written rules related to showers, changing rooms, away trips, hotel rooms, etc. Codes of Conduct were rare, and the times they existed they did not require a coach's signature. No disciplinary action was attached to breaking the Code of Conduct agreement.
Measures for Managing Sexual Abuse Cases: Administrators felt policies were complex and not applicable in practice, nor did the administrators feel equipped to manage or implement the policies. Athletes, parents, and coaches did not know what procedures to follow or what resources were available in the event of an incident.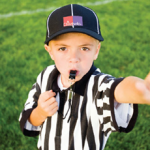 Parent and Demers came up with a prevention model, which contains measures to protect athletes from victimization. Click here to see the flow chart. Also, Childhelp has created "Blow the Whistle on Child Abuse." This toolkit can be used for training adults and youth on what sexual abuse is, the signs of abuse, and ways to prevent abuse from occurring. The Child Protection in Sport Unit of the United Kingdom also offers many resources for parents, athletes, coaches, and sport administrators.
WORKS CITED
Brackenridge, C. (2003). Dangerous sports? risk, responsibility and sex offending in sport. Journal of Sexual Aggression, 9(1), 3-12.
Lev-Wiesel, R. (2008). Child sexual abuse: A critical review of intervention and treatment modalities. Children and Youth Services Review, 30, 665-673. doi: 10.1016/j.childyouth.2008.01.008
Parent, S., & Demers, G. (2010). Sexual abuse in sport: A model to prevent and protect athletes. Child Abuse Review, 20, 120-133. doi: 10.1002/car.1135