Hearts & Horses is one of our more recent grant recipients and they continue to inspire us with their programs and outreach.  When we first became acquainted with Hearts & Horses last fall, they shared with us a stunning piece of art created by youth in their Changing Leads Program. We were fascinated by the beautiful piece of art and further impressed by the story behind how the artwork was created. There was no doubt that Hearts & Horses artwork deserved a place among the youth art created as part of the Culture, Education, Sport, and Ethics Program (CESEP).
THE TEMPLE TAPESTRY
 "The uniqueness of each of us"
Understandably, we were very interested to learn how such a beautiful piece came to be. Jan Pollema, the Executive Director for Hearts & Horses, gladly shared with us the intent behind the artwork.
"We wanted to focus on the subject of cooperative peer learning to create our subject.  The idea of the 'uniqueness of each of us' and our ability to use that individuality and together, to accomplish something greater than ourselves became the theme of our project."
So began the "quilt" motif which completed The Temple Tapestry. Each person contributed a piece of fabric, unique from all the others — just as each person is.  Together as a group, the individual pieces of colorful fabric were placed and glued in such a way that the end result was a beautiful likeness of "Temple," one of the therapeutic horses at Hearts & Horses. As Jan further explained, "Piece by piece we join together with a common dream and create something so much greater than one of us can achieve alone."
ABOUT HEARTS AND HORSES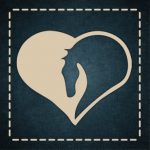 This organization from Loveland, Colorado offers several equine therapy programs for people of all ages. Last year, we spotlighted their inspirational veterans outreach and "Changing Leads" programming for at-risk youth. All of their instructors are trained and certified by the Professional Association of Therapeutic Horsemanship (PATH) International. Hearts & Horses is also a PATH International Premier Accredited Center.
GSD is thrilled to support such a necessary and dynamic organization!