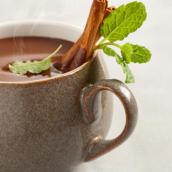 Ingredients:
1/2 c. coffee
2 drops peppermint extract
1/3 c. nonfat milk
2 tbsp. dark chocolate syrup
Directions:
Brew coffee of your choice (or use one package of instant coffee) and pour into a mug. Stir peppermint extract and chocolate syrup into the coffee. Taste and adjust to your liking. Stir in nonfat milk.
Makes one serving.

Back to the Olympic Resource Station