Jesse Owens is well known in his own right for his accomplishments and world records as an American Track & Field athlete. Perhaps though, he is most famous for his outstanding performance at the 1936 Olympics in Berlin, also known as the "Nazi Olympics." There he defied the Third Reich's race-based policies and belief that the Aryan race was superior to all others. There, he made history.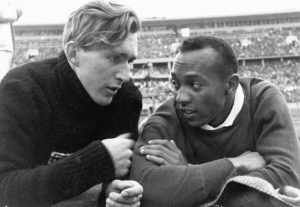 During the preliminary round for the long jump in Berlin, Owens was having a difficult time. He was feeling disheartened after two fouled jumps and knew he had to jump over 7 feet in order to advance to the final round. In an inspiring act of sportsmanship, Owens' rival, German athlete Luz Long, offered him a bit of advice and encouragement. Long suggested that Owens start his jump several inches back to avoid fouling out again. Both athletes knew that Owens could make a distance of over 7 feet and felt confident that even with starting further back, he would be able to make the required jump and advance to the finals. Both athletes advanced to the finals, and Owens won the gold medal while Luz Long won the silver medal.
POLITICS, RACE, AND PROPAGANDA: THE NAZI OLYMPICS, BERLIN 1936
This momentous act of sportsmanship and many other pieces of history from the 1936 Olympics in Berlin, are featured in the "Politics, Race, and Propaganda: The Nazi Olympics, Berlin 1936" exhibit which will be hosted by the California African American Museum (CAAM) in Los Angeles. The Foundation for Global Sports Development is proud to sponsor this event, which is presented by the United States Holocaust Memorial Museum and presented by the Southern California Committee for the Olympic Games.
The museum exhibit, which runs from October 19, 2016 – February 26, 2017 will take museum visitors on a journey to Europe during the Third Reich. From CAAM's website:
"Politics, Race, and Propaganda: The Nazi Olympics, Berlin 1936 features historic photographs and documents, riveting films, Olympics regalia and promotional materials, along with first-person accounts that tell the stories of athletes who were barred because of their ethnic heritage, those who boycotted the Games in protest, and the African Americans who competed and won a total of fourteen medals, refuting the Nazi myth of "Aryan" supremacy. The exhibition, organized by United States Holocaust Memorial Museum, will be presented in Los Angeles for the first time and will feature a number of key additions, including one of Jesse Owens' gold medals and Mack Robinson's silver medal, both earned during the 1936 Games."
Please visit CAAM's website to learn more details about the exhibit.