The Foundation For Global Sports Development Presents:
See It, Stop It:
Tackling Abuse in Amateur Sports
 A virtual symposium exploring how athletes, coaches and administrators 
can recognize and stop abuse in sports.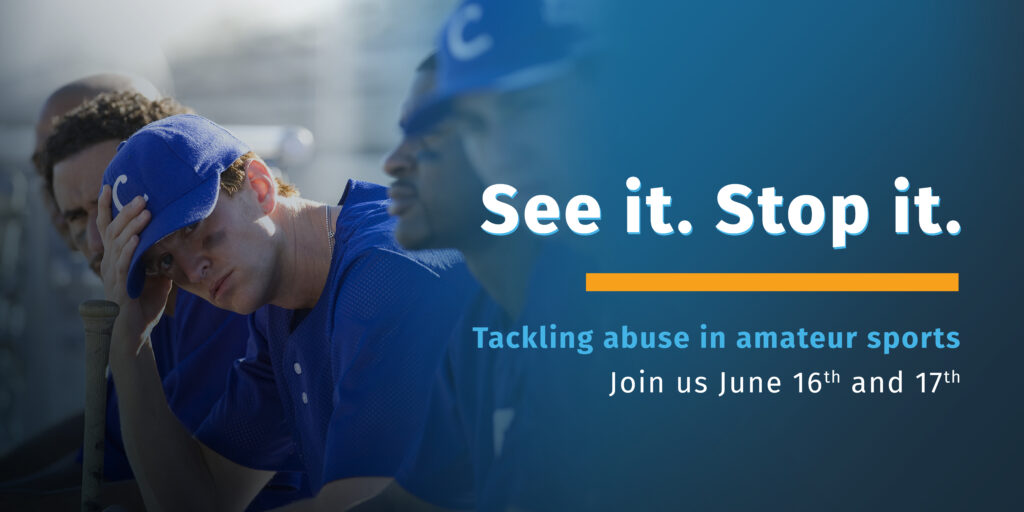 Session 1: From Prevention to Solutions (Wed. 6/16 – 11:00am PDT)
Geared towards prevention, this session will equip adults to keep children and teens safe from abuse.
Speakers:
Kim Hurst – CEO and Founder of Avalon Healing Center
Trinea Gonczar – Director of Development at Avalon Healing Center
Moderated by Yetsa A. Tuakli-Wosornu, M.D., M.P.H. – Founder and Director of Sports Equity Lab, Asst. Professor of Clinical Public Health at Yale University
Session 2: Healthy, Positive Coaching (Wed. 6/16 – 12:30pm PDT)
This session will guide coaches and parents in identifying the differences between "tough" coaching and abusive coaching, while also providing an overview of positive coaching styles and strategies.
Speakers:
Grace French – President and Director of Communications & Research for The Army of Survivors
Coach Stuart Krohn – Director of ICEF Public Schools' Student Leadership Academy, Rugby, and Sailing and member of the SoCal Jewish Sports Hall of Fame
Coach Lisa Finegan – Rugby Coach and Teacher at ICEF's Public Schools
Moderated by 

Rébecca Khoury, MBA 

– Founding Director of The Spirit of Trust, President & CEO of the MAKO Corporation
Session 3: Institutional Accountability: The Power of One Voice (Thurs. 6/17 – 11:00am PDT)
Institutions – such as universities and organizations – play a critical role in keeping athletes safe. This session will explore strategies for supporting survivors, creating protection policies, and how to be an institutional change-maker at the individual level.
Speakers:
Jonathan Vaughn – Former NFL player and Survivor of Dr. Anderson at the University of Michigan
Prof. Amos Guiora – Professor of Law at the S.J. Quinney College of Law and author of the book "Armies of Enablers"
Moderated by Daphne Young, Chief Communications Officer at Childhelp
Session 4: Resources Recap (Thurs. 6/17 – 12:15pm PDT)
As we wrap up the symposium, we will hear from Daphne Young of Childhelp and Tracy Leonard with Darkness to Light. They will review key points from the symposium and provide additional resources. 
Speakers:
Daphne Young, Chief Communications Officer at Childhelp
Tracy Leonard, Darkness to Light's 2021 Certified Instructor of the Year