The 2014 Winter Paralympics in Sochi begin on Friday, March 7th. These games hold five categories of events: Ice Sledge Hockey, Wheelchair Curling, Alpine Skiing, Cross-Country Skiing, and Biathlon. While the duration might not be as long as the Olympics (the Paralympic Games end March 16th), these competitions often prove to be more fierce and inspiring. If that isn't reason enough to tune into the Paralympic Games, we've come up with a list of 7 reasons to watch the Sochi Paralympic Games.
SEVEN REASONS TO WATCH THE SOCHI PARALYMPIC GAMES
1.
Improve Your Vocabulary – After watching the Paralympics, you will become a "yes" person. The words "can't" or "impossible" will (or should) be removed from your everyday language. Witnessing the feats of strength and perseverance of the paralympians will absolutely change your outlook on what you are capable of as a person.
2. Because you can! This year's Paralympics will have an unprecedented 50 hours of television coverage by NBC. Also, The International Paralympic Committee (IPC) will be hosting live video on their website. With this Paralympics being the most accessible ever to fans, let's all spend some time watching.
3. The "Beast" – Tatyana McFadden is strong — like REALLY strong. Nicknamed the "Beast" by her college teammates because of her strength, McFadden hasn't simply overcome a lifetime of challenges. She has dominated them. She holds TEN medals, including three gold medals, for her success in the Summer Paralympic Games. McFadden is trading her wheelchair for skis in Sochi and competing in the Winter Paralympics for the first time in the Para Nordic Skiing and Biathlon events.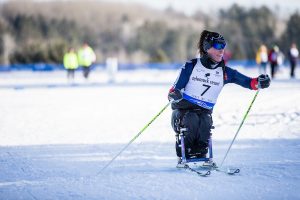 4. Support the Troops – Of the 74 athletes the United States is sending to the Paralympics, 18 are veterans or active duty service members. That's nearly a quarter of all the American athletes. During the 2010 Vancouver Winter Olympics, only five of the paralympians were veterans. The increase in numbers shows an increase in resilience and resources for our wounded warriors. These service members continue to honorably represent the best the United States has to offer.
5. More Athletes – The growing Paralympic movement has in turn increased opportunities for the growing size of paralympic athletes. The United States is sending its largest contingent of nordic athletes to the Winter Paralympic Games – 17 in total. Only 6 were sent to the 2010 Vancouver Paralympics.
6. Because we all need more awesome in our lives.
Like this:

7. Sir Philip Craven – Sir Philip is the President of the International Paralympic Committee. We happen to think he is amazing, and he was the recipient of our 2012 Humanitarian Award. Learn more about Sir Philip and his work with the IPC.