Today marks the 83rd anniversary of the 1932 Summer Olympics in Los Angeles. This X Olympiad was held during The Great Depression, and though the event was a resounding success with many historical moments, the weight of the depression could be felt throughout the games. This could be seen in the decrease in participation from the 1928 Summer Games in Amsterdam, where 37 countries and 2,883 athletes competed. In 1932, 37 countries and 1,332 athletes participated.
1932 SUMMER OLYMPIC GAMES IN LOS ANGELES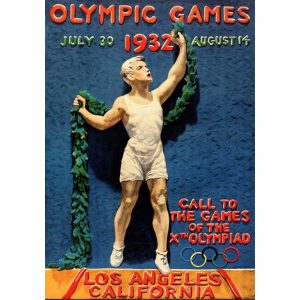 The games were hosted at the Los Angeles Memorial Coliseum, briefly dubbed "Olympic Stadium" for this time period. This coliseum is still in use; in fact, it was recently used during the 2015 Special Olympics World Games in Los Angeles. The 1932 Olympics were the first time an Olympic Village was built and also the first time a victory podium was used.
Babe Didrikson Zaharias also competed at the 1932 Summer Olympics, where she won two gold medals and one silver medal in Track and Field.
OLYMPIC CLUB SWINGING AND GEORGE ROTH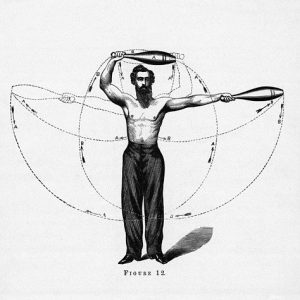 The 1932 Summer Olympics were the second and final time the sport club swinging was an Olympic event. While the name "club swinging" may evoke visions of baseball players practicing their bat swings, the event itself was much more complicated than that. Athlete would hold two clubs, which were often decorated with ribbons, and move them about their bodies in a rhythmic fashion, careful to not hit themselves.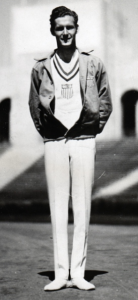 American George Roth won the gold medal for this event in 1932, and his story is one that reminds us of the difficulties families were facing during The Great Depression. George Roth was an unemployed gymnast who, along with many other Americans, had fallen on hard times. It was rumored that during the Olympics, he would take food from the Olympic Village to share with his family. After he was awarded his gold medal, in front of a packed audience, he hitchhiked his way back home. After the Olympics George worked for the WPA and later for Shell Oil.
SMOKEY, THE FIRST OLYMPIC MASCOT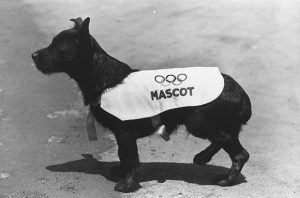 Mascots are an important and fun part of the Olympics, and it was during the 1932 Summer Olympics where this tradition began. The stories say that a Scottish Terrier wandered into the Olympic Village, and the athletes briefly adopted him for the duration of the games. Named "Smokey," this dog was the unofficial, but very cute, living mascot for the games.