As a sports focused organization, we have long been captivated by the sport of curling. Then, during our Playmakers trip to the 2010 Winter Olympics in Vancouver, we were excited to introduce the youth participating in the Playmakers Program to the sport. For many of them, attending one of the matches was their first experience with the sport and they were curious about the rules and techniques of curling. Since that time, we have become supporters of the World Curling Federation (WCF) and their Olympic Celebration Tour. We recently joined them at one of the tour stops in Portland at the Evergreen Curling Club (ECC).
CURLING BREAKS THE ICE
Curling is known for its welcoming and cheerful spirit, and ECC's club members only reinforced that reputation. The club's president, Bruce Irvin, told us their league members range in age from 12 to 76 years old. This kind of intergenerational experience can reap wonderful benefits to both the older and younger league members. Bruce also shared with us an even more touching anecdote. Several club members, around the ages of 11-13, had the opportunity to curl with a man who used a wheelchair. Being the inclusive sport that it is, curling allows for people of all levels of ability to compete with one another. After the young girls finished their afternoon of curling with the person using the wheelchair, one of them confided to Bruce, "People in wheelchairs aren't that scary after all!"
To an adult that comment could come across as insensitive, but it is important to remember youth rarely have the opportunity to interact with people with disabilities. This lack of exposure can create apprehension on the part of a child – often on HOW to engage with a person who uses a wheelchair or other supportive device. The apprehension can feel like fear.  A wheelchair can seem intimidating, and a barrier is created. However, the inclusive nature of curling enabled these young women to develop a friendly and team-oriented relationship with this person using the wheelchair, likely forever changing how they approach other persons with disabilities. Curling, so to speak, broke the ice.
OLYMPIC CELEBRATION TOUR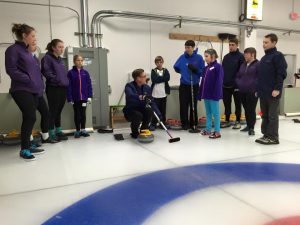 The tour stop in Portland was a big hit. Viktor Kjäll, Swedish Olympic curler, and Darrell Ell of the World Curling Federation visited a local school to talk about curling and encourage youth to try something new and keep persevering to accomplish their goals. Throughout the weekend, many people stopped by the Evergreen Curling Club to learn more about the sport and get on the ice to try it themselves. Overall, it was a fairly successful weekend; Bruce of the ECC told us that their junior curling league went from 16 members to 25 in the course of two days! We like to see that even more youth are giving curling – and the relationships it can bring – a chance.