2018 Exceptional Youth Scholarship
March 6 @ 8:00 am

-

May 1 @ 5:00 pm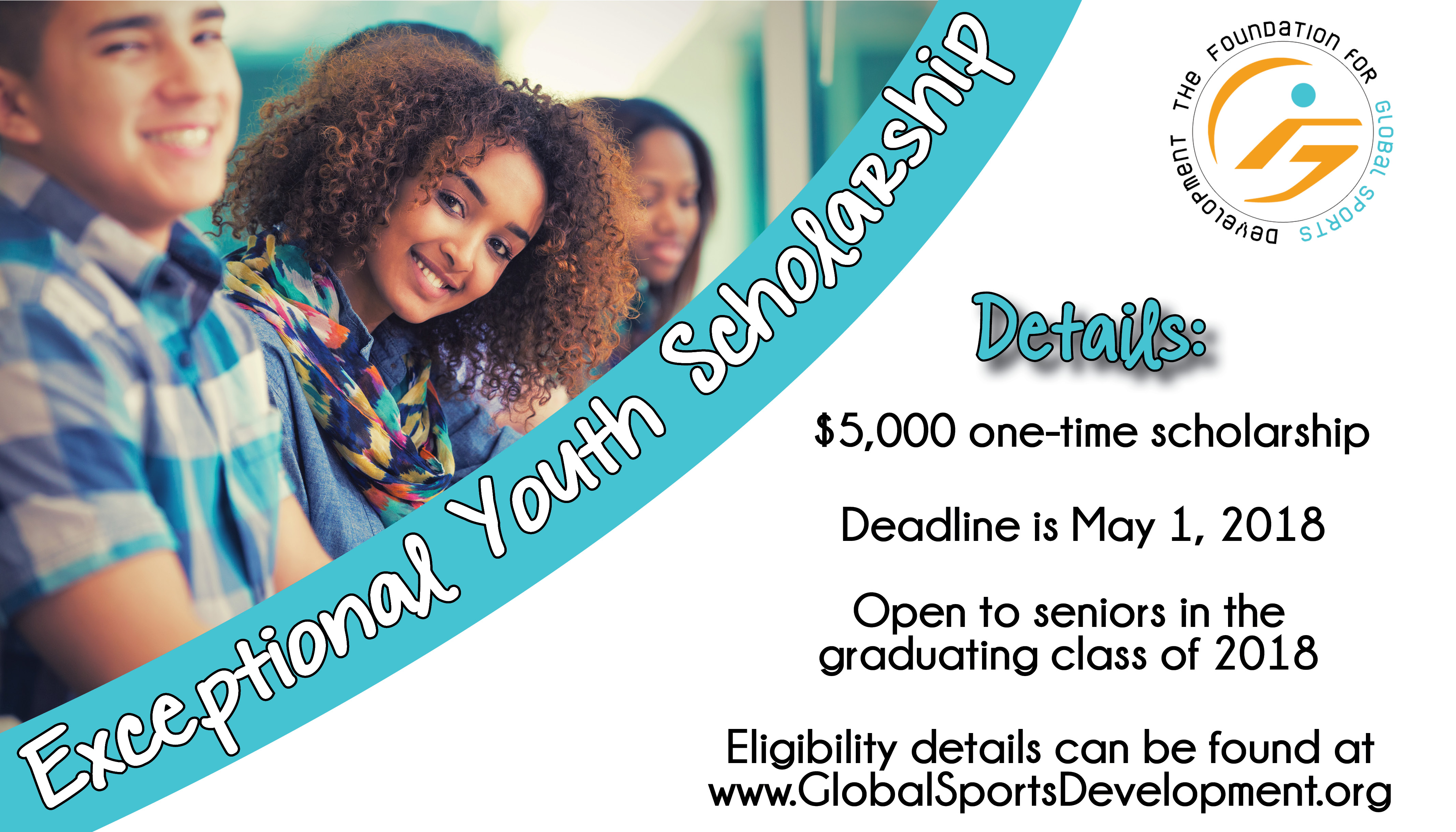 The Foundation for Global Sports Development is now accepting applications for its 2018 Exceptional Youth Scholarship. To apply, visit our application portal: http://global-sports.fluidreview.com. All applications are due by May 1, 2018 at 5 pm Eastern time.
ELIGIBILITY AND REQUIREMENTS
Youth must meet the following criteria to be eligible for the 2018 Exceptional Youth Scholarship:
Must be a high school senior at the time of application (Graduating class of 2018)
Minimum GPA: 3.0
Must have participated in some form of community service, volunteerism, or mentorship activities
U.S. citizen or legal permanent resident
After the application round opens, students must meet the following application requirements:
General Application, including the items below:
Community service description and sign off form (to be completed by their supervisor or
designated school official)
Letter of recommendation form (to be submitted with the applicant's letter of recommendation
from an adult who is not related to the applicant)
Description of personal statement required
List of extracurricular activities, hobbies and interests
List of the colleges and/or universities to which the applicant has applied, or will apply
Description of financial need (while this is not required, financial need will be taken into
consideration)
List all other sources of financial aid, grants, or scholarships.
Transcript displaying a 3.0 GPA or higher
Personal Statement: In 500 words or less, describe a personal experience (challenge, achievement,
community service experience, etc.) that has helped shape you into the person you are today, and
the person you strive to become.
To apply, visit our application portal: http://global-sports.fluidreview.com.
Details
Start:

March 6 @ 8:00 am

End:

May 1 @ 5:00 pm

Website:
Organizer
The Foundation for Global Sports Development

Website: