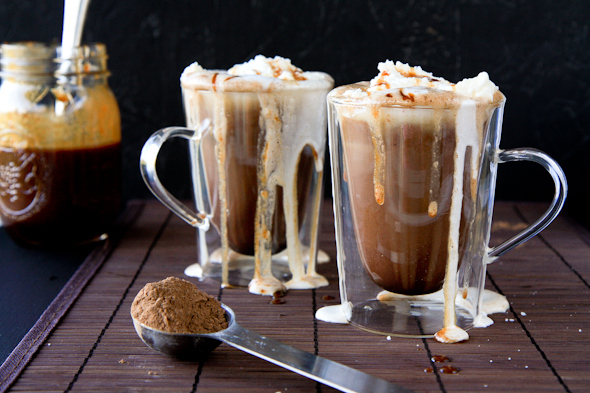 ingredients
For the drink:
1 cup milk
1 cup hot, strong coffee (I did 4 tablespoons of coffee to 1 cup water in a French press)
1 tablespoon cocoa
1 tablespoon sugar
2 tablespoons caramel sauce (my favorite recipe)
For the topping:
1/8 teaspoon kosher salt
1/8 teaspoon sugar
Whipped cream
Caramel sauce
directions
In a medium saucepan, heat milk over low heat until very hot. Remove from heat and froth milk with a frother, whisk or immersion blender. Or, pour into a Mason jar, screw on lid and shake until very frothy.
While the milk is heating, whisk together the coffee, cocoa, sugar and caramel sauce. Split the coffee mixture between two mugs.
Pour the hot milk and foam into the coffee, dividing evenly between the two mugs.
For the topping, mix together salt and sugar. Top each mug with whipped cream, a drizzle of caramel sauce and a hefty sprinkling of the salt and sugar mixture.
From Back to Her Roots
Back to the Olympic Resource Station