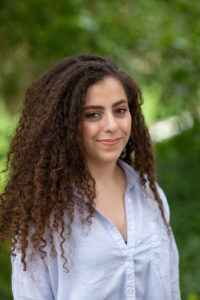 We recently caught up with some members of the first graduating class of our Exceptional Youth Scholars. We're extremely proud of their accomplishments and want to share those with you. Please join us in congratulating these remarkable graduates!
AZNIV DERDZAKYAN
GSD: First off, please tell us what school you graduated from and what you majored in.
AD: I graduated from the University of California, Irvine (UCI) in June 2019 with a bachelor's degree in Political Science and Sociology.
GSD: Did you receive any kind of honors or recognition during your time in college?
AD: During my time at UCI, I was on the Dean's Honor list for nine quarters in a row (in order to qualify, you must be enrolled in at least 12 units and finish the quarter with a grade point average of 3.5 or higher). I was also a member of Pi Gamma Mu, a preeminent honor society in the social sciences and graduated with Honors in Sociology.
GSD: Were you a part of any research initiatives or major projects?
AD: During my senior year, I was part of the Honors Program in Sociology. I conducted my own research project on the effects of student debt after receiving funding from UCI's Undergraduate Research Opportunities Program (UROP). My 25-page thesis — Student Debt: The Future of University of California Students — is the result of my analysis of qualitative data under Faculty Advisor, Dr. Jacob Avery. The thesis examines how carrying student loan debt influences the career goals of students on one University of California campus. I presented my findings at the Undergraduate Research Opportunity Program (UROP) Symposium and the Sociology Department. I was also part of a team my last year where I coded research through Qualtrics survey software at a Social Sciences research lab for the Teen Identity Development and Education Study (TIDES). This study focused on how racial-ethnic identity develops among, and influences, high school students.
GSD: Now that you've completed your undergraduate studies, what's next?
AD: My post-grad goals are to study for the GRE and pursue a master's program in Public Policy and Higher Education. I hope to eventually work for a national organization, government, or university producing policies and reports that impact society.
GSD: What did receiving the EYS award mean to you and what impact did it have on your college experience?
AD: I am thankful to have received the EYS award. To me, the award meant that I truly made an impact. I gave back to the community and received recognition for my efforts. The award also contributed to my goals and successes as a first-generation, low-income college graduate. I was able to use the funds from the award to pay for housing and books. Being that I did not have the resources to pay for those expenses, I am grateful to EYS for providing that support.
GSD: Have you continued to be involved in community service?
AD: I continued to be involved in community service during college. I joined student government otherwise known as the Associated Students of UCI (ASUCI). Through ASUCI I hosted a community civic engagement fair on campus, participated in voter registration drives, and conducted voter education presentations. I was able to lead a team of students to register the highest proportion of the student body to vote in the UC system during the 2018 General Election. I was also President and Philanthropy Chair of Alpha Gamma Alpha, a multicultural Armenian sorority, which allowed me to give back to the community. Collaborating with members of this organization, we collected and donated to Laura's House, South County Outreach, Fresh Basic Needs Hub, Armenian Youth Federation, The Women's Support Center in Armenia, and more. With Alpha Gamma Alpha I also had the opportunity to volunteer, interact, and connect with youth through activities at Girls Inc. and Higher Ground Youth & Family. I took part in Take Back the Night — a national event that our school participates in to raise awareness about sexual assault, domestic violence and gender-based violence — helping run two booths covering topics such as Title IX and consent.
Azniv, it sounds like you had an amazing college experience and made the most of your four years at UCI. Thank you for taking time to give us an update on your life and what you are up to.
All of us at The Foundation for Global Sports Development are honored to have played a small part in your journey and wish you the best as you continue pursuing your career in Public Policy and Education. Please keep us updated on your progress!