Ten seniors will each receive the $5,000 2018 Exceptional Youth Scholarship in recognition of outstanding academic achievement and community service.
Los Angeles, Calif. – March 6, 2018 – The Foundation for Global Sports Development (GSD) has opened the application round for the 2018 Exceptional Youth Scholarship. The foundation created this scholarship to support outstanding youth as they further their education and strengthen their futures.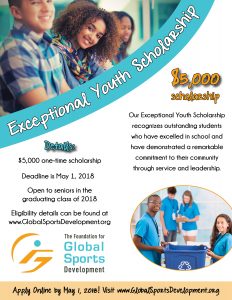 GSD executive board member, Dr. Steven Ungerleider, said, "Since our foundation's inception, we have held education and mentorship in the highest priority. This is our fourth year to offer the Exceptional Youth Scholarship, and each year we continue to be impressed with the caliber of students who apply."
High school seniors graduating in the class of 2018 are eligible to apply for this one-time scholarship of $5,000 to be applied towards the cost of attending an accredited four-year college or university in the United States. The ten scholarship recipients will have demonstrated remarkable academic performance and a commitment to community service. In addition to scholastic performance and volunteerism, the scholarship committee will also take the students' financial need into consideration. Applications for the scholarship will be accepted March 5th through May 1st.
"We are delighted to offer this scholarship opportunity," said David Ulich, executive board member for GSD. "Tuition and education costs are on the rise, making a college education less attainable for many promising, dedicated students. Our Exceptional Youth Scholarship gives these deserving students the financial boost they need to reach their goals."
GSD is committed to continuously supporting programs and initiatives that celebrate exceptional youth. For further details on the scholarship award, eligibility and application process, please visit GSD's website at www.globalsportsdevelopment.org.
About Global Sports Development
Working closely with international sports federations, generous donors and committed athletes, The Foundation for Global Sports Development promotes sportsmanship, education, fair play and ethics among the world's youth. The Foundation gives special emphasis to groups and communities that are most in need or most underserved by current programs, including women, minorities and youth in areas where the risk of delinquency is particularly high. Visit www.globalsportsdevelopment.org to learn more.