Last week we were delighted to support and attend the 6th Annual LA84 Foundation Youth Sports Summit in Los Angeles.
This day-long event brought together close to 400 athletes, youth sports program directors, coaches, civic leaders, and other youth sports advocates for lively discussions and idea exchanges about the youth sports industry and play equity.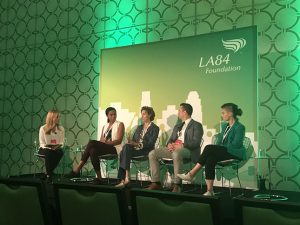 The morning began with a powerful message from LA84 Foundation President Renata Simril on the topic of play equity – that is equalizing the presence of organized and non-organized play and sport among youth of all genders, ages, abilities, and socioeconomic backgrounds. Her presentation was followed by a keynote speech from Janet Evans, the Director of Athlete Relations for LA2028.
We were able to meet some of our Athletes in Excellence award winners, interact with leaders from some of our grant recipients, and enjoy a day all about youth sport!