During the creation of our 2013 Annual Report, we realized what a successful year it was for The Foundation for Global Sports Development. With many new initiatives beginning and great progress in current programs, we feel as though 2013 has been one of our best years yet. As we look toward the future and expanding our mission, we also enjoy sharing our growth and success with our supporters and partners. We invite you to take some time and read through our 2013 Annual Report and learn about some of our exciting programs.
You can download the PDF, or you can read the digital version of our Annual Report.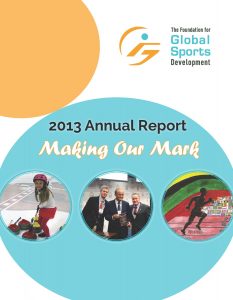 Thank you for allowing us to share with you our news, and we look forward to continuing on this journey together!