Leading up to the 2014 Winter Olympics in Sochi, reports claimed that the laboratory in Sochi which would test athletes for doping would offer the most intensive doping controls thus far. Whether that is the case or not, so far five athletes in Sochi have tested positive for prohibited substances.
Before the games even began, out-of-competition testing detected unreported substances in two Russian Biathlon athletes and Erythropoietin (EPO) in Lithuanian biathlete, Karolis Zlatkaukas.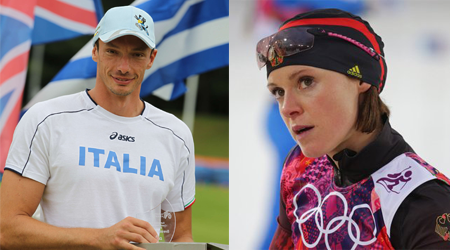 During the games, stimulants were found in both the A and B samples of German biathlete Evi Sachenbacher-Stehle (Methylhexanamine) and Italian bobsledder, William Frullani (Dimethylamphetamine). Sachenbacher-Stehle has been disqualified from the Mass Start Biathlon, where she placed 4th, and her entire team from the Mixed Relay Biathlon event has also been disqualified. Frullani was replaced by team member Samuele Romanini, and the Italians will compete in tomorrow's four man bobsled race.
Methylhexanamine and Dimethylamphetamine are both classified by The World Anti-Doping Agency (WADA) as a "specified stimulant," a group of substances that are more susceptible to inadvertent use and can carry reduced penalties. However, it is still a prohibited substance.
The Vancouver and Turin Winter Olympics each only produced positive results for one athlete at the time of testing originally; however, the International Olympic Committee has slowly and steadily been retesting many of the samples. It is possible these numbers may change.
Martial Saugy, who was a panelist in our anti-doping symposium last year and is currently the head of the Swiss doping lab, has already expressed concerns about the challenges Rio de Janeiro faces in rebuiliding their doping lab. In preparation for the 2016 Summer Olympics, WADA ruled in August that the Rio laboratory did not meet the International Standard for Laboratories (ISL). They revoked its accreditation.
 
Back to the Olympic Resource Station