Sportsmanship at the Olympics
Imagine you're nearing completion of a race you've worked for your entire athletic career. Suddenly, one of your skis snaps in half, rendering the ski useless and you practically immobile. Far ahead you can envision the finish line, but doubt begins to creep into your mind that you'll ever make it there.
And then — from seemingly out of nowhere — a hero of a different kind comes to your rescue. The coach of one of your opponents has come rushing to replace your broken ski with a new one, allowing you to complete the race. As you speed towards the finish line, the crowd erupts in cheers of encouragement for you, praise of the coach who assisted you, and excitement at the astonishing display of good sportsmanship they just had witnessed.
Anton Gafarov and Justin Wadsworth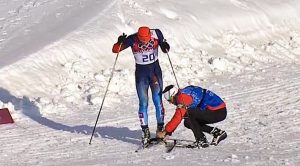 This actually happened to Russian cross-country skier Anton Gafarov as he was nearing the end of the Men's Cross-Country Sprint semifinal today in Sochi. After badly damaging his ski in a tumble, Gafarov attempted to continue on. However, his ski eventually snapped in half. Canadian coach Justin Wadsworth came running onto the track with another ski and worked quickly to replace Gafarov's broken ski.
Why would Wadsworth assist an opponent in a race? "I wanted him to have dignity as he crossed the finish line," Wadsworth told theToronto Star Cathal Kelly.
The Culture of Cross-Country Skiing
Awhile ago, Sport At Its Best blogger Duff Gibson interviewed Canadian Cross-Country Skier, Beckie Scott, about a similar display of sportsmanship at the 2006 Winter Olympics in Torino. Sara Renner, another Canadian skier, experienced a broken pole in the middle of her leg of the relay race. The Norwegian coach nearby immediately handed Sara a new pole, and the Canadians went on to win the Silver medal. Beckie sheds some light on why cross-country athletes and coaches help each other out in these desperate circumstances:

Back to the Olympic Resource Station