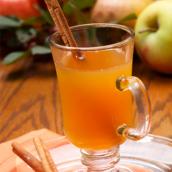 Ingredients:
1 c. unsweetened apple juice
1 c. water
1/2 c. orange juice concentrate
1/2 c. lemonade concentrate
1 tsp. brown sugar
1/4 tsp. ground nutmeg
1/4 tsp. ground ginger
2 whole cloves
2 cinnamon sticks
Directions:
Combine the first seven ingredients together in a slow cooker. Tie cloves and cinnamon sticks in a cheesecloth bag and place in slow cooker. Cover and cook on low heat for 3-4 hours or until fully heated. Remove spice bag. Garnish with additional cinnamon sticks if desired.
Makes about two servings.
From Shape.com
Back to the Olympic Resource Station