Historical events — big and small — do occur at the Olympics every year. For some people, particularly Britons, Jenny Jones winning the bronze medal in the slopestyle snowboarding competition is a big piece of history. In the 90 years of competing, no Olympian from Great Britain has won a medal in any snow events during the Winter Olympics – until now.
Who is Jenny Jones?
The 33 year old snowboarder participated in a variety of sports throughout her teenage years, including gymnastics and track and field. She first began snowboarding when the Churchill dry slope offered free lessons near her home in Bristol.
She has worked a few interesting jobs in the last few years — including being a chalet maid in France (to snowboard in the French Alps, of course), inspecting cardboard, and teaching Fencing to children. Jenny's work enables her to enjoy surfing in summertime and snowboarding in winter.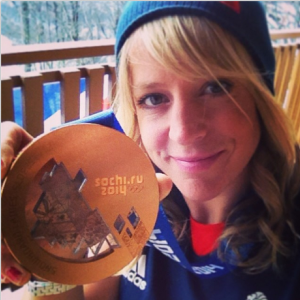 Congratulations, Jenny! Making history at the Olympics is a big deal, and you should be proud of your hard work. And of course, we would like to point out the importance of community sports groups providing opportunities to youth in the area — had it not been for the Churchill dry slope, history may not have been made this week!
Back to the Olympic Resource Station