Olympic Athletes Hub App Offers More
This past Tuesday marked the 100 day countdown to the 2014 Winter Olympics in Sochi. So it was timely that the International Olympic Committee (IOC) announced the creation of the "Olympic Athletes Hub," a mobile app designed to connect fans to the Olympians.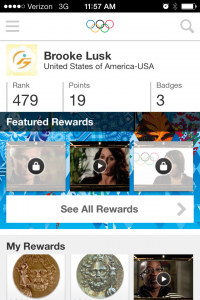 Fans can engage with the athletes on a more personal level, having access to their Instagram, Facebook, and Twitter accounts. The interface is user friendly, giving app users the option to search by sport, athlete, team, or game. By connecting the app to Facebook and Twitter accounts, and then choosing to follow athletes, users can "unlock" rewards, such as exclusive video content and more. For instance, I followed @teambernard (Canadian curling) on Twitter and was able to watch a video of Nadia Comaneci talking about how to take a difficult routine from practice to the big moment at the Olympics.
Prior to the 2012 Summer Olympics in London, the IOC had launched a website which offered similar engagement. Considering that most viewers will have their smartphones or tablets next to them at all times while watching the Olympics, this idea is sure to be a hit. So far, at least 5,000 athletes have registered to use the app.
Download from the Google Play Store https://play.google.com/store/apps/details?id=com.fanappz.ufa
Download from iTunes app store https://itunes.apple.com/ch/app/olympic-athletes-hub/id728241169?l=en&mt=8